Sayl Task Chair By Yves Behar For Herman Miller
When design heavy-hitters Herman Miller and Yves Behar revealed their brand new, eco-friendly SAYL chair back in October, we just wanted to know one thing – when and where can we get one? SAYL TASK CHAIR BY HERMAN MILLER Download brochure. Designed by Yves Behar. Good design, healthy support, and exceptional value are always attractive—and Sayl delivers all three. By using smart engineering to transform simple materials, Herman Miller were able to make Sayl attainable for more people.
1. Summarize the problem you set out to solve. What was the challenge posed to you? Did it get you excited and why?
Typically, high quality office chairs are extremely expensive, putting quality ergonomics and durability out of reach for many customers. One of the biggest challenges with the SAYL chair was how to design a chair with the quality and innovation that Herman Miller is known for, but offered at a much lower price price.
Sayl Task Chair By Yves Behar For Herman Miller Sofa
Another key challenge of the chair was how to meet the stringent Herman Miller performance requirements such as a 12-year warranty, Cradle-to-Cradle certification, ergonomics and technical innovation.
Additionally, in designing the SAYL chair the challenge was how to create a beautiful chair while using fewer materials. Herman Miller is committed to high standards of sustainability, thus the SAYL chair needed to continue this cradle-to-cradle philosophy without sacrificing aesthetics.
Finally, SAYL needed to be a global chair that would to fit into a work and home environments of many cultures. The design needed to consider the proper aesthetic and scale for more than just the office, creating a chair that is as beautiful as it is functional.
2. What point of view did you bring to the challenge? Was there anything additional that you wanted to achieve with this project or bring to this project that was not part of the original brief?
From the onset, we understood that designing a chair (and no less fro Herman Miller) was an amazing design challenge. There is no place to hide in a chair; every part serves a structural or tactile purpose, while providing comfort, ergonomic support and beauty. We approved this challenge with the overall goal of attainability. Aiming to design a chair that is Herman Miller quality at an affordable price to consumers, thus broadening the overall brand reach of Herman Miller to a new group of consumers. We feel that attainability can only be reached if every molecule in the product is working harder and smarter.
To raise the bar among task chairs, we needed to go above and beyond the status quo and improve the offering for consumers. From the beginning of the project, we explored a new approach to ergonomics from the industry standards of upholstered foam and tensioned mesh fabric in a rigid frame. As more and more people spend more and more time in front of computers and at their desks, it was critical to create a chair that provides support and comfort without sacrificing upper body flexibility for the user.
Amazon photos app won't open. We took this challenge as an opportunity to completely break away from the traditional constraints of office chairs: a chance to explore new sources of inspiration, color, aesthetic, materials, construction, and assembly processes.
3. When designing this project, whose interests did you consider? (Discuss various stakeholders, audiences, retailing, manufacturing, assembly, distribution, etc., for example.)
Throughout the design and development of the SAYL chair, there were numerous perspectives and interests to consider. Our main focus was to design a chair that would expand Herman Miller as a company and brand to new markets and audiences; thus dramatically disrupting the status quo of standard task chairs and setting a new bar for affordable ergonomic furniture for consumers.
While the Herman Miller brand is known worldwide, the majority of sales remain domestic. The SAYL project was an opportunity for expansion into new markets around the globe. Also, although Herman Miller has been making stronger inroads into home furnishings, the majority of sales remain in office systems sold to larger corporate clients. One key objective of SAYL was to develop a chair that was appealing, and attainable, for a broader audience. From home office workers to owners of small firms, SAYL has the opportunity to appeal to those for whom $800 Aeron chairs are out of reach.
Lastly, at the time of the project, all Herman Miller products were sold through a network of dealers and representatives, with only a few online partners handling smaller orders and selling directly to individuals. With the SAYL chair program Herman Miller has the opportunity to change that. To succeed in this effort, Herman Miller requested an affordable design with iconic, emotional appeal that speaks directly to consumers.
4. Describe the rigor that informed your design. (Research, ethnography, subject matter experts, materials exploration, technology, iteration, testing, etc., as applicable.) If this was a strictly research or strategy project, please provide more detail here.
MARKET IMMERSION
To get a clear snapshot of the competition, we immersed ourselves in the world of low and mid priced task chairs from around the world. We examined sales figures to see what products were selling well, and why. We spoke to Herman Miller sales representatives about what they need to tell a compelling design story at retail, and what their customers needs are.
INTERNAL FEEDBACK
After interviewing a broad variety of internal Herman Miller stakeholders and a range of potential customers from individuals to small business owners, we synthesized these inputs into a clear set of business goals that can help influence our design approach, and ultimately how we gauge the success of our design concepts.
USER EXPERIENCE CRITERIA
What do people want out of a task chair today? How are attitudes and desires shifting in response to the current offering? We synthesized input from people who sit in task chairs daily, recording their pain points and flipping them around to identify areas of opportunity. Experience criteria such as "greater upper body flexibility" or "more discreet presence in the office environment" served as key guidance points to begin developing solutions such as the flexible, yet visually light suspension back.
DO MORE WITH LESS
Given the imperative to create a full-featured chair at a low cost, we developed a mantra of "do more with less". Like the inspiration of a suspension bridge, the SAYL chair provides a maximum of flexibility and support with a minimum of material and structure. The "3D-Intelligent" suspension back has varying levels of support molded in to the back itself – hinge points, thicker, more supportive areas, and thinner more flexible zones. In this way we replace multiple, hard molded parts with one adaptive mesh surface. Throughout the design, the strategy defined out a process of purposeful reduction by which each part is reduced to its minimum expression to save material and reduce cost without sacrificing user experience.
5. What is the social value of your design? (Gladdening, educational, economic, paradigm-shifting, sustainable, labor-mindful, environmental, cultural, etc.) How does it earn its keep in the world?
The Herman Miller SAYL chair considers ergonomics, material savings, quality, aesthetics and comfort. SAYL makes an iconic statement, while providing known quality at an affordable price.
We took an eco-dematerialised approach, removing excess materials while maintaining a high level of quality. In completely re-thinking every design element, we created a better, smarter chair that sets a new standard for performance and aesthetics. By eliminating as much material as possible, we shaped each functional piece to be beautiful, expressive and tactile, revealing structural innovations like the Y-tower and ArcSpan as critical elements in the ergonomics and design aesthetic.
One of the distinguishing elements of SAYL is its frameless full-suspension back. Different degrees of tension are infused into the injection-molded back's proprietary material, providing comprehensive support. The 3-D intelligence that this design provides lets the chair adapt to individual shape and movements.
The arc of the suspension back also gives SAYL its unique shape. The elegant form easily slips into any space giving a sense of visual lightness and transparency. With a sense of humility, it attempts to achieve high-tactility design rather than a visual statement.
Eco-dematerialization contributed to the chair's aesthetics, but also reduced the process' impact on the earth. Producing the chairs on three continents decreases the distance between factory and buyer. Chairs ship ready to assemble in half-size boxes, reducing waste. The materials used in production are sustainable and the SAYL chair is targeted to achieve MBDC Cradle to Cradle Silver, BIFMA level 2 and GREEN GUARD certifications.
6. If you could have done one thing differently with the project, what would you have changed?
Yves Behar Chair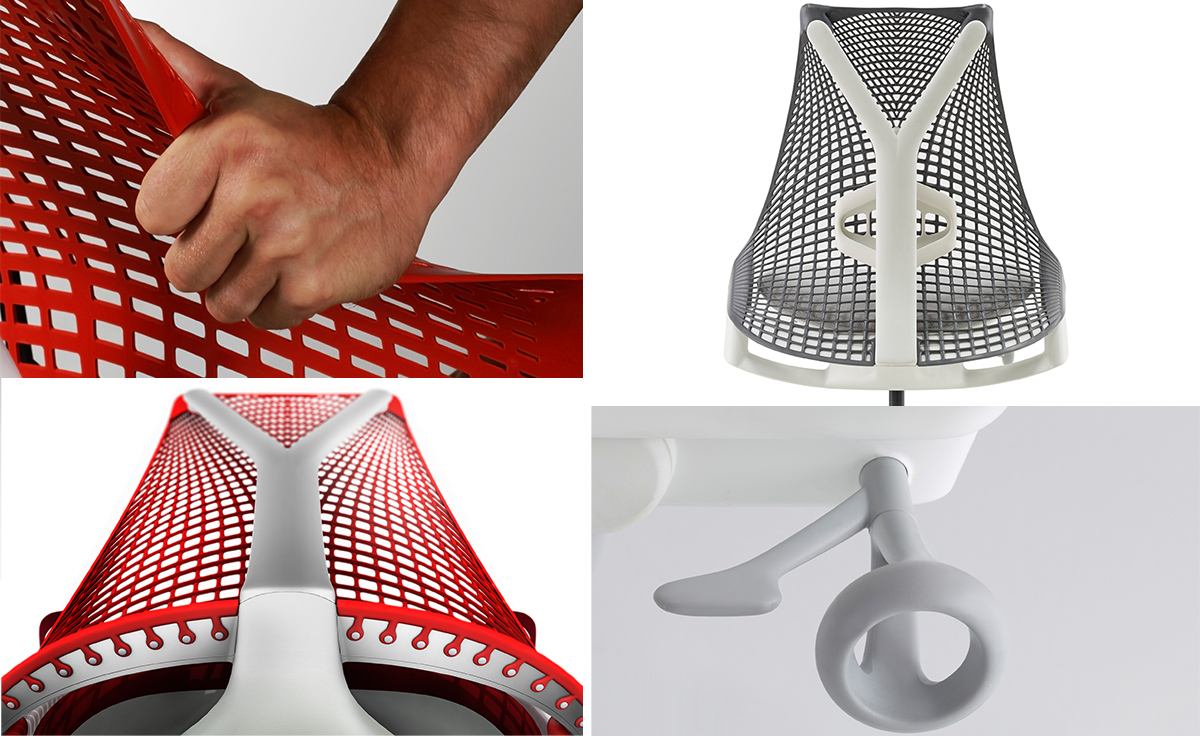 Sayl Task Chair By Yves Behar For Herman Miller Furniture
N/A