Jiffy Lube Synthetic Oil Change Price
Jiffy Lube Premium Oil Change Prices; Service: Cost: Pennzoil High Mileage Vehicle: $70. Price Change; Jiffy Lube Oil Change: Pennzoil Conventional (Includes 5W-30 & 10W-30).
Jiffy Lube oil change price range between $46 for Pennzoil Conventional (Includes 5W-30 & 10W-30) and $100 for Pennzoil Ultra Platinum Full Synthetic. However, those Jiffy Lube oil change prices can vary depending on the type of car you drive and location. We always recommend that you call your local Jiffy Lube and double check with them.
Jiffy Lube offer 4 different types of oil changes: Conventional, High Mileage, Synthetic Blend Oil, and Full Synthetic. The type of service you need depends on the type of car you drive. Most of the newer cars take synthetic oil. However, you should always contact your dealership or click here to find the right oil for your car.
Below are the latest estimated Jiffy Lube oil change prices.
Service
Cost

Conventional

Pennzoil - Includes 5W-30 & 10W-30
$44.99
Formula Shell - Includes 5W-20
$44.99
Shell Rotella Triple Protection
$69.99

Upgrade to Premium Oil

Pennzoil High Mileage Vehicle (Motor Oil with Active Cleansing Agents)
$69.99
Pennzoil Synthetic Blend (Motor Oil with Active Cleansing Agents)
$71.99
Pennzoil Platinum (Full Synthetic Motor Oil with PurePlus Technology)
$89.99
Pennzoil Ultra Platinum (Full Synthetic Motor Oil with PurePlus Technology)
$99.99

Ask about their Free Refill Program
Jiffy Lube Oil Change Coupons
Being one of the leading automotive service shops, you can bet they are always offering oil change coupons and deals. All you have to do is visit Jiffy Lubes official website and search for your local Jiffy Lube. It will automatically provide you with coupons and deals for that specific location. They typically offer $5.00 OFF signature service oil change. Another option is to search "Jiffy Lube oil change coupons" on Google. If you know of any coupons or deals, please share it with us here.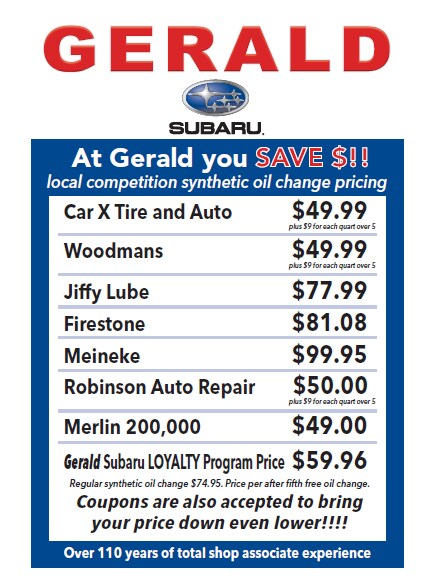 You can always visit our other Jiffy Lube page where we provide prices for the entire service menu.
For more information on Jiffy Lube, please visit www.jiffylube.com.
[anspress]
September 11, 2017 5:32 pm
When it comes to oil changes, everyone is looking for the best quality at the best price. And anyone who's ever shopped around for their vehicle's oil change service knows prices can span a wide cost spectrum. In this post, we'll analyze the choices and options that determine oil change services costs. We'll also show why our Signature Service® Oil Change is a great choice for both price and quality.
Motor Oil Type
According to CostHelper.com, the typical conventional oil change costs ranges from $20 – $55. The biggest factor in determining how much you pay: where you go. Dealerships typically charge at the high end of the range; independent and chain shop prices – like your local Jiffy Lube® – typically fall in the lower end of the range.
While the overall cost for synthetic oils is higher, the cost range of $45 – 70 shows how much you can save by finding an alternative to your dealership. Also, a recent study by AAA confirmed that synthetic oil is a better choice than conventional oil.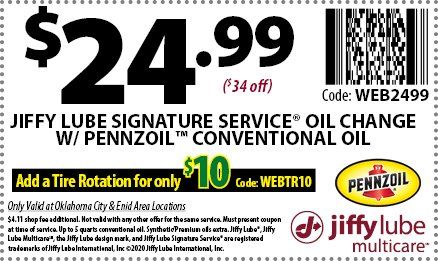 Why are auto dealerships more expensive? It comes down to overhead. Their facilities and technicians typically cost more than independent shops and chain service providers, so they pass those costs onto customers. One study showed drivers can save as much as $300 per year by avoiding dealerships for repair and service work.
Vehicle Type
Many older vehicles cannot use synthetic oil. As a result, the one-time cost for a conventional oil change may be lower, but the interval between changes lessens.
Also, some vehicles' engine designs make accessibility difficult. If engine components are in the way, it will take more time to perform the service and costs may increase.
Lastly, some vehicles require more oil than others. As a general rule, vehicle engines require 5 – 8 quarts. A 4-cylinder engine usually requires around 5 quarts of oil. A 6-cylinder engine uses roughly 6 quarts. The amount of oil needed can also factor into your oil change costs.
Oil Filter Type
Oil filters typically come in two varieties: economy or premium. If you're the type of driver that likes to stretch your oil change interval, choosing a premium filter may help your oil last longer. This choice, however, will increase the filter price.
Labor and Additional Services
Some oil change locations just offer oil changes; others extend their service to include engine parts and fluid checks as well. The number of additional services, and the skill level of the technicians doing the work, will impact the price of the service.
Jiffy Lube Synthetic Oil Change Coupons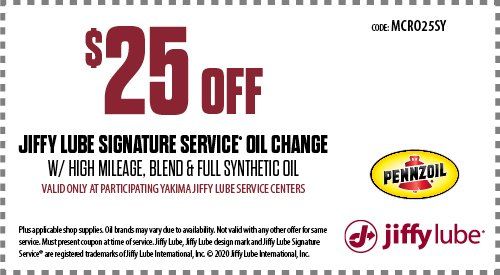 The Signature Service® Oil Change Advantage
For drivers throughout greater Sacramento and the Central Valleys, Jiffy Lube offers an oil change service that balances quality and affordability.
Our range of motor oil products cover every type of vehicle, from hybrid to pickup truck. Our Signature Service®, which is performed by highly-trained and knowledgeable technicians, includes a comprehensive checks of vital engine components and fluids. We beat dealership prices, and our website consistently offers oil change discounts that take even a bigger bite out of your oil change cost.
Best Price Synthetic Oil Change
The next time your vehicle needs an oil change, check our store locator to find a Jiffy Lube® near you. Mp3 scan and repair.
Jiffy Lube Synthetic Oil Change Cost Canada
Categorized in: Automotive Tips