Hero Kal Task Mesh Office Chair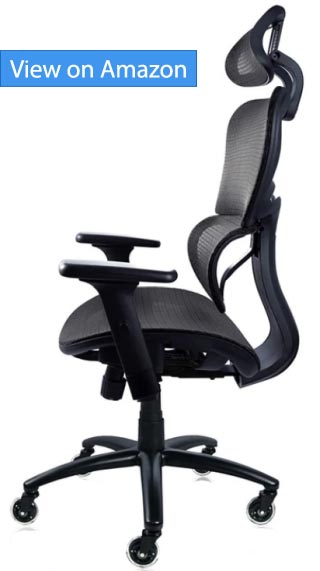 ErgoCanada - Detailed Specification Page
Back to Previous Page

by Interstuhl
Ergonomic BenefitsFeaturesImagesAdditional ResourcesSpecificationsUsage TipsModels Accessories
Product Summary
The Hero 172H Series Task Chair from InterStuhl features a seat back engineered to adapt automatically to the weight of the user, providing a unique balance of comfort, ease and support tailored to every individual. To ensure users of all weights are properly supported when leaning back in the chair, the return force of the seat back is regulated by an Autofit Synchro Mechanism that can then be fine-tuned manually if desired. The seat back provides height adjustable lumbar support and is made of high quality transparent mesh interspersed with opaque, horizontal tension stripes that deliver excellent breathability and support for the entire back. In addition to its upright position, the seat back has an infinite range of lean-back positions. A separate mechanism allows the relative positions of the seat and seat back to be locked at four distinct angles greater than 90°, with an impressive maximum angle of 126°.
The seat pan on the Hero is tilt adjustable, height adjustable from 18' to 22.5', and has an intuitive hand-rolling mechanism which provides 2" of adjustment. Together, these features allow users of all heights to benefit from a seat that is custom sized and optimally positioned. The seat fabric is high grade commercial polyester rated at 400 g/rm.
An even higher degree of adjustability characterizes the T-armrests on the Hero. To allow users of all builds to meet their individual needs for arm support, the '4-D' armrests are adjustable for height, width (from the inner edge of the left armrest to the inner edge of the right armrest), depth (forward and backward) and full swivel (360°).
The Hero 172H Series Task Chair is available with a dual density mesh back in a striking contemporary anthracite, or in a more conservative black. All chairs come with soft-surface double casters and a durable aluminum base powder-coated in Brilliant Silver.
Ergonomic Benefits
Helps to Improve the Health of the Body's Systems - The conventional seated position (i.e. 90º bend) restricts both blood and fluid flows through the internal organs. The Autofit Synchro Mechanism of the Hero permits users to open that bend up to 126°. Regular employment of this feature can benefit the body's internal operations by reducing potential restrictions in the digestive tract and permitting the diaphragm to move more freely which in turn can significantly increase cardiovascular activity.
Can Reduce Neck and Shoulder Issues - The Hero 172H features 4-D armrests with an extensive range of adjustment in width, depth, height, and angle. These adjustments enable each user to position the armrests to offer support where it will provide the greatest benefit, while yet remaining easily adjustable should changes in tasks warrant. Adjusting the armrests as needed ensures that the shoulder joints are not overloaded and that the muscles of the shoulders and neck are not overstrained. A side benefit of this can be a reduction to the risk of development of muscle tension which can lead to performance-reducing or potentially debilitating headaches.
Increases Mental Alertness - The movement offered by the Hero can naturally increase cardiovascular activity. This moves more oxygen to the brain and contributes to a greater degree of mental alertness which can lead to greater productivity as users may also find themselves able to remain alert and comfortable for greater periods.
Reduces Risk of Lower Back Pain - The wide range of adjustments offered in the Hero enable each user to configure the chair to best suit their body type and task requirements. Multiple levels of lumbar support, adjustable in height and pressure, ensure that the back receives the appropriate support for each user. Adjustable resistance in the Autofit Synchro Mechanism permits users to fine-tune this function to match their body weight and preferences, ensuring access to resistance from very light to fairly high. A tilt-adjustable seat pan assists the user to achieve a correct spinal alignment to reduce stress on the lower end of the spinal column and the innovative roll-back seat depth adjustment lets users customize the seat depth for their personal comfort.
Offers Core Muscle Toning - The Autofit Synchro Function can be used by users to encourage the toning of muscle. By regularly employing the range of movement offered by the Hero these muscles are engaged to a much greater degree as compared to static sitting. This can either be accomplished on a consistent basic throughout the workday through the small adjustments users make as they shift between tasks or on a more pro-active basis by making a point to regularly lean back through the full range of movement, even doing so several times in a row. This will also have the added benefit of encouraging cardiovascular activity with the associated improvement in overall alertness.
Can Reduce General Fatigue - Movement is key to ensuring that worker fatigue is controlled. Static sitting at a workstation reduces blood flow and encourages shallow breathing. Combined, these result in a reduction in oxygen to both the brain and body tissue, contributing to overall fatigue. The Autofit Synchro Mechanism encourages movement by permitting the Hero to naturally follow the body rather than forcing it into a static position.
Encourages Active Movement - The range of movement offered by the Hero encourages regular movement which keeps lubricating fluid moving through joints, reducing or eliminating stiffness, and also actively stretches muscles which can become shortened from extended static sitting.
Can Reduce Risk of Circulation Restriction in Lower Legs - The innovative 'roll-back' mechanism with which the Hero is equipped lets users adjust the depth of the seat pan to fit their body dimensions. This ensures that they receive the necessary support while at the same time ensuring that there is clearance behind the knees. This function also creates a 'waterfall' front on the seat to eliminate the potential for any sharp edges against the back of the legs.
Encourages Correct Posture at Workstation - Seat height is easily adjusted using the simple hand lever. This enables users to easily set their seat to a height appropriate to their build, optimizing their posture at their workstation.
Encourages Best Positioning by Users - The Hero encourages users to take an active interest in their chair, to adjust it as needed to optimize their comfort. A generous range of adjustments are available, easily accomplished, and easily repeated. This discourages a 'set it and leave it' approach which can occur with seats which have complex mechanisms with benefits that are hard to ascertain the immediate effects of.
Features
Breathable Mesh Back: The Hero 172H features a comfortable dual density mesh back which provides body contouring support. The mesh is breathable for increased user comfort.
Autofit Synchro Mechanism: The Hero features an Autofit Synchro Mechanism which enables a user to lean freely lean back in their chair. The mechanism automatically adjusts the resistance to match the weight of the user and includes a fine-tuning control for ideal comfort. The movement achieved by the Autofit Synchro Mechanism can be used to avoid the potential risks of static sitting, even when remaining seated. It also enables users to adopt varying postures throughout the day, opening the torso angle up to 126°. For situations where the freedom of movement may interfere with work this feature can easily be 'locked out' at 90° or at one of four additional leaning positions using a button adjacent to the seat.
Adjustable Resistance: The Autofit Synchro Mechanism features adjustable resistance which can be set for the weight and comfort of each individual user. The adjustment range will cover users weighing from 100 - 264 lbs (45 - 120 kg).
Autofit Synchro Lock Option: Users can choose to limit the range of movement on the Autofit Synchro Mechanism by engaging the Lock function at one of 5 positions - This way they can change the degree of movement throughout the day and to best suit the nature of the particular task being undertaken at any time.
Integrated Lumbar Support: The Hero 172h Task Chair has a significant lumbar curve built into the contoured form of the back. This combines with the tensioned mesh to provide firm yet flexible support that contours to the back of the user, providing a 'natural' support in just the right place.
Adjustable Lumbar Support: The Hero has a significant lumbar curve built into the contoured form of the back. This combines with the tensioned mesh to provide firm yet flexible support that contours to the back of the user, providing a 'natural' support in just the right place. This support can be further enhanced by an adjustable Air-Pressure-Technology bar which backs the mesh. This lumber cushion offers 1' of infinitely variable depth adjustment and a 2' range of height adjustment with five indexed stopping points.
Load-Dependent Casters for Hard Floors: The Hero is equipped with soft 65 mm load-dependent casters for safety. This means that the chair will not roll away from the user when they stand up. These casters do not lock, they only exert just enough resistance so that the chair does not roll on its own when weight is removed, allowing users to re-position the chair with minimal effort. When the chair is occupied the brake fully disengages, permitting the user to move in the chair as required with no resistance.
Tilting Seat: The Hero offers an infinite range of seat inclination adjustment from 0° to -4°. As the seat tilt originates from the rear of the seat there is no need for adjustment of back height or seat positioning when the inclination is adjusted. The seat remains in correct alignment to the back regardless of the angle selected.
Depth Adjustable Seat: Unlike most traditional office chairs, the Hero employs a unique 'rolling' mechanism which permits the front edge of the seat to be rolled 'in' or 'out' to shorten or expand the depth of the seating surface. This performs the same function as the more common 'sliding' seat pan but with an added benefit. A sliding seat pan will change the alignment of the seat to the back, especially the position of the area designed to provide the most support for the weight of the user. In addition, a sliding seat pan also changes the space or 'gap' between the seat and the back, potentially creating an uncomfortable seating arrangement for users who require a deeper seat pan. The Hero addresses this issue by maintaining the same seat-to-back alignment regardless of the size or build of the user. By moving the seat pan adjustment to the front, the Hero provides all users with an optimum seating position where they are best able to benefit from all the features of the chair.
'Waterfall Front' Seatpan: The Hero is equipped with a 'waterfall' front to reduce the risk of unnecessary pressure being exerted against the back of the thighs. To accomplish this the front of the seat is 'rolled' down and away from the leg. This feature is also what provides the seat pan depth adjustment.
Removable 4-D Armrests: The Hero features 4-D Armrests that are adjustable for height, width (from the inner edge of the left armrest to the inner edge of the right armrest), depth (forward and backward) and pivot (180° to the left and right). See 'Specifications' below for detailed range of movement. If desired the armrests can easily be detached using a simple Allen key.
Sturdy Base: The Hero 172H sits on a sturdy 5-point Aluminum base powder-coated in Brilliant Silver (see image in gallery)
Images

(Click on any thumbnail to view larger image)

Angled (Right) View of Hero with Anthracite Mesh and Black Seat


Front View of Hero with Anthracite Mesh and Black Seat


Angled (Left) View of Hero with Black Mesh and Black Seat


Rear View of Hero with Anthracite Mesh and Black Seat


View of Lucia 58 Seat Fabric - Black


View of Lucia 58 Seat Fabric – Dark Grey


Brilliant Silver Powder-Coated Aluminum Base

Support for comprehensive cyber protection In addition to the helping to recover lost data, Acronis Disk Director is 100% compatible with Acronis True Image 2021 – the first true personal cyber protection solution that integrates data protection with advanced cybersecurity capabilities. A full image backup is the fastest way to restore your system since it captures all of your data, including partitions, your operating system, preferences, apps, documents, photos, and files. Unlike the recovery partition, a full image backup means you won't need to waste time reloading programs, updating to the current versions,. With Acronis True Image, creating a full image backup on an external hard drive is as easy as two clicks. Once the drive is connected and Acronis True Image is running, you click Add backup. The entire computer is the default backup source, so you simply need to assign the external drive as the Backup destination and then click Back up now. Acronis True Image Home 2011 creates scheduled backups using the signature of the source hard disk. If you recover the same disk signature, you don't need to re-create or edit the backups created previously. Some installed applications use a disk signature for licensing and other purposes. Acronis true image partition. Then I use diskpart in Windows 10 (EFI-Installed) I see 4 partitions. In TrueImage 2016 are only 3 Partitions to select. I cant select the MSR-Partition to backup. So, what is to do to make a complete Backup of my system-drive with all partitions. Acronis True Image User Guides available from Product Documentation page. ImTranslator for.


Easy Access Height and Back Controls


Seat Tilt and Back Tension Controls


Adjustable Lumbar Pad


Easy Rolling Seat Depth Adjustment
Additional Resources
Interactive User's Manual: Interactive User's Manual


Operators Manual: Operators Manual - PDF Format


Technical Specifications
Arm Rests:

Dimensions: 4.5' W x 9' D (11.4 x 22.9 cm)

Degree of Firmness: 43 Durometer Rating on the Shore Hardness Scale.

Adjustment Range:

Width (from the inner edge of the left armrest to the inner edge of the right armrest): 15' - 21.5' (38.1 - 54.6 cm)

Total Range of Width Adjustment: 6.5' (7.6 cm)

1.5' via armrest lateral movement (0.75' per side)
1.5' by rotating armrest by 180°
3.5' mechanical (via Allen key)

Note: The combination of all 3 adjustments accomplishes a full 6.5' of width adjustment. The mechanical adjustment should be set with the armrests in neutral (2 index points in). This will enable users to achieve 3' (1.5' in and 1.5' out) of width adjustments by combining the lateral ratchet range and the 180° rotation.

Depth (forward and backward): 2.125' (5.4 cm)
Note: When the armrests are pivoted with the curves sides facing in (ie. narrower) they also move closer to the backrest, providing optimum arm support for users of smaller build.
Pivot: 360° with 0° and 180° lockouts, indexed stops at 28° and 32° (both in and out) - free rotation through remainder of range
Height (above seat): 11 Settings ranging from 6' - 10' (15.2 - 25.4 cm) in 0.5' (1.3 cm) increments. (release button on underside of armrest)

Fully Removable: Both armrests easily be removed with a simple Allen key (included).

Seat Pan:

Depth Adjustment: Innovative Active Forward Seat Depth Adjustment via Roller Extension (see 'Depth Adjustable Seat' in the Features section for further details on this function)
Width: 19' (48.3 cm)
Depth: 18.25' - 19.25' (46.4 - 48.9 cm)

Seat Tilt/Inclination:

Adjustment: Infinitely Variable between 0° and -4°. Seat tilt occurs from the back of the seat, ensuring that users of all builds are correctly positioned at any angle of tilt.
Note:The seat tilt adjustment is not intended to be performed under loaded conditions. Doing so can risk damage to the tilt adjustment mechanism.

Seat Height Range (uncompressed): 19' - 23.5' (48.3 - 59.7 cm)
Back Rest:

Width: 18' (45.7 cm)
Height (above seat pan): 23 (58.4 cm)

Certifications: Quality management system DIN EN ISO 9001:2008, VO (EG) No. 1221/2009 (EMAS), Environmental Management System DIN EN ISO 14001:2009, OHSAS, EcoVadis gold, Commitment to sustainability. Quality Office, Blue Angel, Bifma e3 level.
Warranty: Warranty PDF
Package Contents: Hero 172H Series Task Chair, User Guide
Usage Tips
Adjust Seat Pan Tilt When Chair is Unoccupied - It is not advisable to attempt to adjust seat tilt while the chair is in use. The seat tilt adjustment is not intended to be performed under loaded conditions and damage can be done to the tilt adjustment mechanism.
Armrest Width should be set so that adjustment can be made both narrower and wider as needed. The primary mechanical setting (via Allen key) should be performed with the armrests in neutral (2 index points in), flat side facing in. This will enable users to achieve 3' (1.5' in and 1.5' out) of width adjustments by combining the lateral ratchet range and the 180° rotation without the need of tools.
Adjust the Armrests to Match Your Build - Users with smaller builds may wish to rotate the armrests so the curved edges face in, positioning the armrest in close proximity to the backrest. This better situates the armrest surfaces for optimum support of the upper arm.
Make a point of actively engaging with the Autofit Synchro movement throughout the day. While you may choose to lock out this feature while performing specific tasks, to do so permanently will eliminate a key feature which makes this chair successful.
Fine tune the resistance tension of the Autofit Synchro Mechanism to match your comfort. While the Autofit feature will automatically compensate for your weight most users still choose to create a more personal degree of resistance. Adjustment is gradual and may require several turns of the adjustment control.
Adjust the armrests to provide support when in a neutral position, with elbows resting comfortably at your sides and shoulders relaxed. The 4-D armrests are highly adjustable and can easily be repositioned when moving between task types.
Use the seatpan roller to shorten or lengthen the seatpan to suit the length of your thighs. You want to have 1-2 finger widths between the back of your knees and the front of the seatpan.
When adjusting the height of your Hero, aim for an elevation which lets your elbows open slightly more than 90° while your hands are resting on the keyboard or mouse. If your feet are unable to rest flat against the floor you may need to add a footrest to your workstation. If you are too low and the angle of your legs and torso is less than 90 then you should raise your chair to the appropriate level while also raising your input devices to a similarly appropriate height.
Models
For pricing, availability or to order this product, visit our online store.
| Model # | Description |
| --- | --- |
| 10362384 | Hero 172H, Anthracite Mesh Back, Black Seat $1295.00 - $500 Clearance Pricing While Supplies Last = $795.00 |
| 10362385 | Hero 172H, Anthracite Mesh Back, Dark Grey Seat $1295.00 - $500 Clearance Pricing While Supplies Last = $795.00 |
| 10362383 | Hero 172H, Black Mesh Back, Black Seat $1295.00 - $500 Clearance Pricing While Supplies Last = $795.00 |
| 10362386 | Hero 172H, Black Mesh Back, Dark Grey Seat $1295.00 - $500 Clearance Pricing While Supplies Last = $795.00 |
Hero Kal Task Mesh Office Chair Price
WORKING-CLASS HERO Task Chair with Pneumatic. HOT SEAT Mesh Mid-Back Task Chair Black Finish Black Mesh. Let us be your one source for all of your office needs.
Armless Office Chair mysuntown Ergonomic Task Office Chair No Arms Small Computer Desk Chairs with Wheels Black Mesh Comfortable Adjustable Chair (Small) 4.2 out of 5 stars 541 $89.99.
Mesh Office Chairs while providing better air circulation keeping you cool also has better style advantages over the traditional office chair. Interia Systems provides a large range of mesh office chairs with visitor chairs like the Alto Office Chair With Arms to the popular task chair the Ace Mesh Office Chair.
Specifically designed for use at a desk, computer chairs are a staple in every office. These ergonomic chairs are lightweight and easily portable, and have numerous comfort features, including breathable mesh backs, swivel function, lumbar support, adjustable seat height and tilt control, and castor feet with wheels.
Hero Kal Task Mesh Office Chair Reviews
Kal Task Executive high back mesh chair with lumbar support for extra comfort, with optional head rest. The synchro mechanism allows for adjustment to suit different tasks and comes with adjustable arms. Bifma tested with Green Guard certification backed by a 10 year warranty.